REIGATE TAXI TO LUTON AIRPORT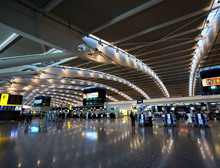 Reigate Taxi to Luton Airport
With over 200,000 passengers travelling through it every day, Luton is the busiest London airport. Whether you are travelling for business or pleasure, we can help make your airport journey stress free.
No need to worry about your airport pickup, you can book your Luton transfer quickly and easily online via our web booker in advance.
Luton Airport Transfers
PRE-BOOK ONLINE NOW
Reigate Taxi Airport transfer services operates from Reigate and surrounding areas to and from London Luton Airport.
Reigate Taxi is a leading taxi company in Reigate. Reigate Taxi is based in Reigate and can provide a fast and efficient taxi services.
Reigate Taxi will track your flight to see if its early or subject to any delays. If you are booking for a company then just sit back and relax we will look after your clients from when we pick them until we drop them off.
MEET & GREET (OPTIONAL)
Our Meet and Greet service is stress free when booked our driver will be in arrivals at the airport with a board showing your name,your clients name or company name on it,there is fee for this service which includes 45 minutes waiting time once the plane has landed.
CURB BOOKING
A curb booking is where the client walks out and meets the driver outside on the designated airport car park. When you have made a booking you will have a client admin portal to check or amend any details and pay for the service you need by Credit Card etc at no extra cost. You will then receive an invoice to the registered email address. Its that easy.
Check our free Taxi Fare Calculator and pre-book your taxi transfer today by clicking below and get a fixed fare. You can trust us to give you a first class service.
OTHER POPULAR UK AIRPORT SERVICES WHERE WE PROVIDE TAXI SERVICES
Heathrow Airport Taxis
Gatwick Airport Taxis
Luton Airport Taxis
Stansted Airport Taxis
Flight Monitoring
We monitor your flight and arrive suitably, so even if your flight is delayed or early we will meet you on time.
 Meet and Greet Service (OPTIONAL)
Your driver will meet you in the arrivals hall with a name-board.
Free 45 Minute Wait
We offer 45 mins free waiting time after the flight has landed. 
Check Prices
Get an instant price using our state of art online booking system. Save time. Save money. Travel better.
Choose Car Type
Select the car that suits your budget and your travel needs. All online prices are fixed with no hidden cost and include 20% VAT.
Trip Information
Please provide us full details of your trip including date & time, flight number.
Pay Securely
3D secure payment powered by Worldpay. All major debit and credit cards accepted, including Amex at no extra cost.
Booking Confirmation
Instant booking confirmation directly to your inbox.
Our meet points at the airport
Pick-up Location
Meeting Points
Heathrow Terminal 1
Free waiting time: 45 minutes
* At the arrival gate barrier or in front of Costa (coffee shop)
Heathrow Terminal 2
Free waiting time: 45 minutes
* At the arrival gate barrier or in front of WHSmith (Blue, Stationary shop)
Heathrow Terminal 3
Free waiting time: 45 minutes
* At the arrival gate barrier or in front of WHSmith (Blue, Stationary shop)
Heathrow Terminal 4
Free waiting time: 45 minutes
* At the arrival gate barrier or in front of Costa (coffee shop)
Heathrow Terminal 5
Free waiting time: 45 minutes
* At the arrival gate barrier or in front of Costa (coffee shop)
Gatwick North Terminal
Free waiting time: 45 minutes
* At the arrival gate barrier or in front of airport information desk
Gatwick South Terminal
Free waiting time: 45 minutes
* At the arrival gate barrier or in front of airport information desk
Stansted Airport
Free waiting time: 30 minutes
* At the arrival gate barrier or in front of airport information desk
Luton Airport
Free waiting time: 30 minutes
* At the arrival gate barrier or in front of airport information desk
London City Airport
Free waiting time: 15 minutes
* At the arrival gate barrier or in front of airport information desk
Southend Airport
Free waiting time: 30 minutes
* At the arrival gate barrier or in front of airport information desk